We are pleased to announce that the first copyleft licensed haggadot are coming online. First, our friends at Haggadot.com began sharing contributed content with the Creative Commons By Attribution 3.0 Unported (CC-BY) license. Today, Jewish Boston announced that their new haggadah, "The Wandering is Over Haggadah," is free for download and free as in freedom — it's being shared with a CC-BY-SA (ShareAlike) 3.0 Unported license — so it's adoptable, adaptable, and derivative works are freely redistributable so long as they correctly credit and attribute the original author and work, and are also licensed CC-BY-SA.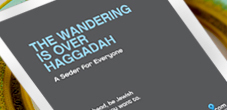 From Jewish Boston:
Maxwell House won't cut it this year? Ready for a change? This is not your grandfather's seder!

Enjoy your own The Wandering is Over Haggadah, downloadable right from here. This thirty-minute version includes optional supplements, discussions, and Passover songs.

Think it's too long? Not long enough? You can choose either the PDF version or the Microsoft Word [DOCX] option, which enables you to add or delete whatever you'd like. Go ahead, have Passover your way.
Don't have Microsoft Word? No worries.
Download the "Wandering if Over Haggadah" by Jewish Boston in ODT (Open Document Type Format)
Suitable for use with LibreOffice Writer, a free and open source desktop text editor.
Thank you, Jewish Boston, for sharing the vital creativity on which healthy cultures depend.

"פסח | The Wandering is Over Haggadah by Jewish Boston"
is shared by Jewish Boston with a
Creative Commons Attribution 4.0 International
license.