Background
The Open Siddur is a collaboration between individuals committed to the development of a complete framework for producing personally customized Jewish Prayer books. The framework includes a core archive of digitized siddur content accessible under permissive copyright licenses, the data encoding standards and procedures under which the content is stored, and a web application and user interface for users to generate a personally customized siddur from traditional and user-contributed sources.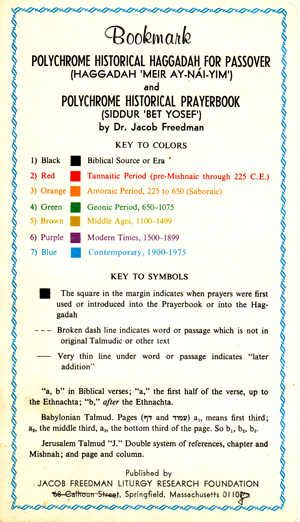 Origin
The Open Siddur was first conceived in 2000 by Aharon Varady as an open source project archiving the sections of the Siddur, tagged according to the era of their composition and allowing user edits and user-contributions via a PERL/MySQL backend. This vision was in part inspired by Rabbi Jacob Freedman's Polychrome Historical Haggadah (1974). Rabbi Freedman's innovation was to clearly represent the text of the Haggadah and Siddur as aggregate texts with different authors and periods of composition. (See Freedman's color coded legend included on a bookmark distributed with his Haggadah. In a pamphlet illustrating his vision for a Polychrome Historical Jewish Prayerbook, Rabbi Freedman wrote:
This is perhaps the first attempt to present for publication a polychrome historical prayerbook. The author herewith presents a random selection of prayers in colors merely as examples to show the various levels of historical development….The marginal symbols, also in color, indicate the period when certain prayers or phrases were first formulated and/ or introduced into the prayerbook. The references are not to be considered exhaustive.
Freedman passed away in 1986 before he could complete negotiations for the publication of his prayerbook, and tragically, his manuscript is now lost. Considering that Freedman's use of color amounted to an early application of metadata to text, it seemed clear that a much more nuanced approach to the origin and inclusion of text in the Siddur could be supported with open source database technologies.
The Open Siddur Project remained an intriguing idea for years due to the lack of available copyright accessible digitized text of the siddur, and the lack of mature technology to automate transcription of Public Domain source material (i.e., Hebrew OCR tools that recognize nikkudot and other diacritical marks).
Meanwhile others conceived of somewhat similar projects, albeit with different scopes and target markets. Dan Sieradski developed a haggadah he called the Open Source Haggadah (2001) and proceeded to work on a web application he called the Open Source Siddur, inspired by Douglas Rushkoff's call for an Open Source Judaism. Development of Dan's siddur project stalled in 2006. As with Dan's siddur, a number of other online siddurim cropped up on sites providing digitized liturgical content in a small variety of popular nusḥaot. These were provided without attribution, assuming perhaps that the restrictive terms of use were misapplied by their publishers to works originating from the Public Domain. (The Open Siddur Project explicitly defines free according to the Wikimedia Foundation's Definition of Free Cultural Works. For this reason we use standard free culture licenses from the Creative Commons to indicate how works in our database may be redistributed. We will never restrict material with an end-user license agreement (EULA).)
During this time, a graduate student at Harvard, Efraim Feinstein, was looking for an active Free and Open Source (FOSS) project for developing a siddur. A self-taught hacker, Feinstein found that the other existing projects were either technologically inadequate to the task, or insufficiently supportive of free culture values. While Varady's "Open Siddur Project" proposed a similar idea, a six year old web page without a code base made him think that the author had gone on to other things and that the project was forgotten. Finding no active and worthwhile project to partner with, Efraim began on his own, calling it the Jewish Liturgy Project (JLP) because "all the obvious names were taken".
Feinstein coded on and off, going through different versions of standard and non-standard methods of XML encoding, and finally settling on an encoding schema defined by the Text Encoding Initiative (TEI). Efraim began transcribing a haggadah over a period of two months, from January to March 2008. Not wanting to announce the project until he had produced something minimal to release, the project was not made public until the first code was committed to Google Code on December 10, 2008.
Later that month, on December 31, 2008, a young self-taught Brooklyn hacker named Azriel Fasten contacted both Feinstein and Varady, asking the latter about reviving the Open Siddur. Varady and Feinstein were soon introduced and agreed on a common vision for the project. Feinstein, who fully embraces the culture of free and open source software development, welcomed Varady's willingness to contribute, and was happy to connect his project to that of the Open Siddur name. Varady was overjoyed that a passionate developer community was coalescing around this newly shared vision and was eager to help Feinstein lay the foundations for a robust server process, XML encoded digital text archive, and web application.
Current Status
Development of the Open Siddur focuses primarily on building core processes, standards, and text resources. We are in dire need of help developing UI web and app interfaces to take advantage of our back-end sever architecture.
For more detail, please check out our list of Milestones. Discussion of the Open Siddur continues on our discussion list and project development continues on the code base hosted at Google code. Transcription of texts and project documentation is available at our documentation wiki.
Our community is open, so please count yourself as invited. We welcome your contribution. If you're a coder, please introduce yourself and your capabilities on our discussion list.
Media inquiries can be directed to our Hierophant, Aharon Varady, via our contact page.
If you use twitter, you can follow our tweets here.