A seder for the night of Shavuot, based on various traditions as well as the general structure of a Rosh Hashanah seder. Originally created for Nottingham Liberal Synagogue, UK in 2022.
---


"🗍 סדר ליל שבועות | Seder Leil Shavuot, by Rabbi Gabriel Kanter-Webber (Nottingham Liberal Synagogue, 2022)"
is shared by the living contributor(s) with a
Creative Commons Attribution 4.0 International
license.
---

Gabriel Kanter-Webber
Gabriel Kanter-Webber is rabbi of Brighton and Hove Progressive Synagogue, Sussex, UK. He was born in Kingston-on-Thames. After studying Politics & International Relations at Sussex University, he spent a year as a youth worker for LJY-Netzer, the youth movement of Liberal Judaism, before entering Leo Baeck College to study for the rabbinate. He has served in many congregations as a student, including three years with the York Liberal Jewish Community. With a particular affection for Liberal Jewish communities outside the London centres, Gabriel has a special interest in connecting Jewish values to contemporary events and social justice issues (often in real-time), and is passionate about enabling people to weave Judaism – subtly but strongly – into their everyday lives.
Associated Image: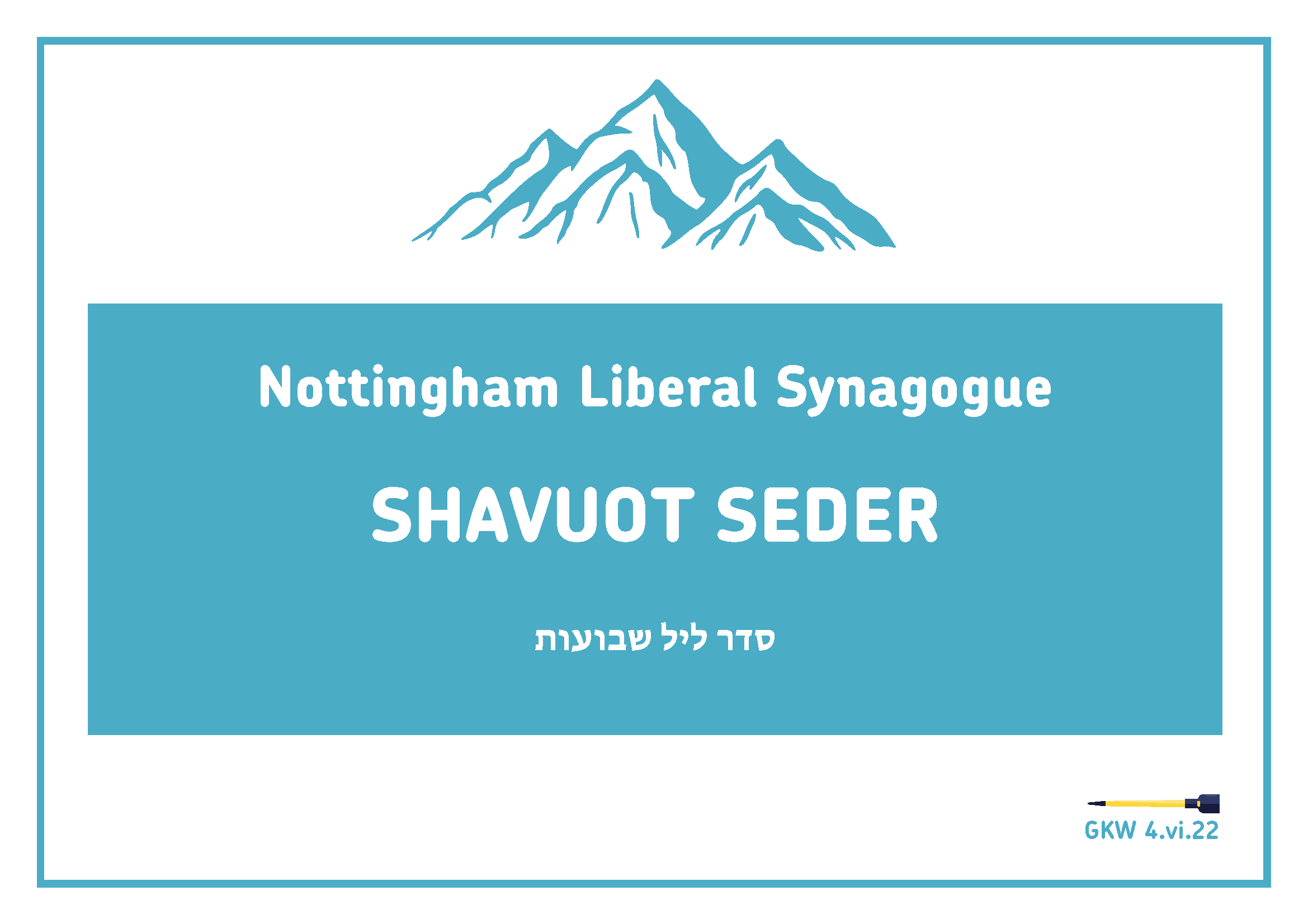 Seder Leil Shavuot for Nottingham Liberal Synagogue (Gabriel Kanter-Webber 2022) – title(This image is set to automatically show as the "featured image" in category lists and in shared links on social media.)
Terms of Use:
Be a mentsch (a conscientious, considerate person) and adhere to the following guidelines:
Properly attribute the work to Gabriel Kanter-Webber.
Clearly indicate the date you accessed the work and in what ways, if any, you modified it. (If you have adapted the work, let us know so that the contributor might consider endorsing your revision.)
Provide the stable link to this resource: <https://opensiddur.org/?p=48816>.
Indicate that the original work was shared under the Creative Commons Attribution (CC BY) 4.0 International free-culture license. (To redistribute or remix this work in any format, modified or unmodified, you must refer to the terms of the license under which the work is shared.)
Note:

The views expressed in this work represent the views of their creator(s) and do not necessarily represent the views of the Open Siddur Project's developers, its diverse community of contributors, patrons, or institutional partners.

Support this work: The Open Siddur Project is a volunteer-driven, non-profit, non-denominational, non-prescriptive, gratis & libre Open Access archive of contemplative praxes, liturgical readings, and Jewish prayer literature (historic and contemporary, familiar and obscure) composed in every era, region, and language Jews have ever prayed. Our goal is to provide a platform for sharing open-source resources, tools, and content for individuals and communities crafting their own prayerbook (siddur). Through this we hope to empower personal autonomy, preserve customs, and foster creativity in religious culture. If you like what you've found here, please help keep our project alive and online with your financial contribution.

ויהי נעם אדני אלהינו עלינו ומעשה ידינו כוננה עלינו ומעשה ידינו כוננהו

"May the pleasantness of

אדֹני

our elo'ah be upon us; may our handiwork be established for us — our handiwork, may it be established." –Psalms 90:17