Source (Hebrew)
Contribute a translation


ברעדה ויראה באנו לפניך
כי מי לא יירא מאימת דינך,
בגילה וצהלה נעמוד לפני כסא משפטך,
כי אתה חנון ורחום לכל דורשיך,
טוב וסלח ורב חסד לכל קוראיך.



נקנו יי מטומאת מחשבותינו.
טהרנו וכפר פשעינו ועוונינו,
לב טהור ברא לנו אלהינו
ורוח נכון חדש בקרבנו,
ולא נשוב עוד לכסלה ברוע מעשינו.
טוב וסלח ורב חסד לכל קוראיך.



צדקנו יי והוצא משפטנו לאור,
קרא לנו מיצרנו ואיבינו חופש ודרור,
השיבנו אליך ונשובה, אל אדיר ונאור
כלתה נפשנו מיחל לישועתך, והיה לעת ערב יהי אח
וכימי קדם נדליק במקדשך מנורת המאור.
טוב וסלח ורב חסד לכל קוראיך.



יהמו עלינו המת רחמיך,
עמלנו וענינו הבט ממעון שמיך,
חוסה ורחם, ופדנו מצרותינו ואויבינו למען שמך.
כפר וסלח עון עמך כגודל חסדך
השיבה לנו ששון ישעך וזיו שכינת קדשך.
טוב וסלח ורב חסד לכל קוראיך.



ועשה עמנו לטובה אות,
קרב לנו קץ הפלאות,
כי רב שבענו תלאות
ואתה הוא גואלנו יי צבאות,
צא נא בצבאותינו והראנו ישועות.
טוב וסלח ורב חסד לכל קוראיך.



נורא תהלות, ואדון כל הנשמות
בשרנו בסליחתך אב הרחמים והסליחות
זכרנו לחיים טובים ופקדנו בישועות ונחמות
וכסא דוד עבדך בירושלים תכין, ולעולם בל ימוט.
טוב וסלח ורב חסד לכל קוראיך.



עוזי! אלי! מקדשך תבנה בהר נחלתך למופת ולאות
ונהרו אליו כל העמים והממלכות
ואמרו לכו ונעלה אל הר יי צבאות
כיעודך מפי נביא הנחמות
כי מציון תצא תורה ודבר יי מירושלים.
טוב וסלח ורב חסד לכל קוראיך.
---
Source(s)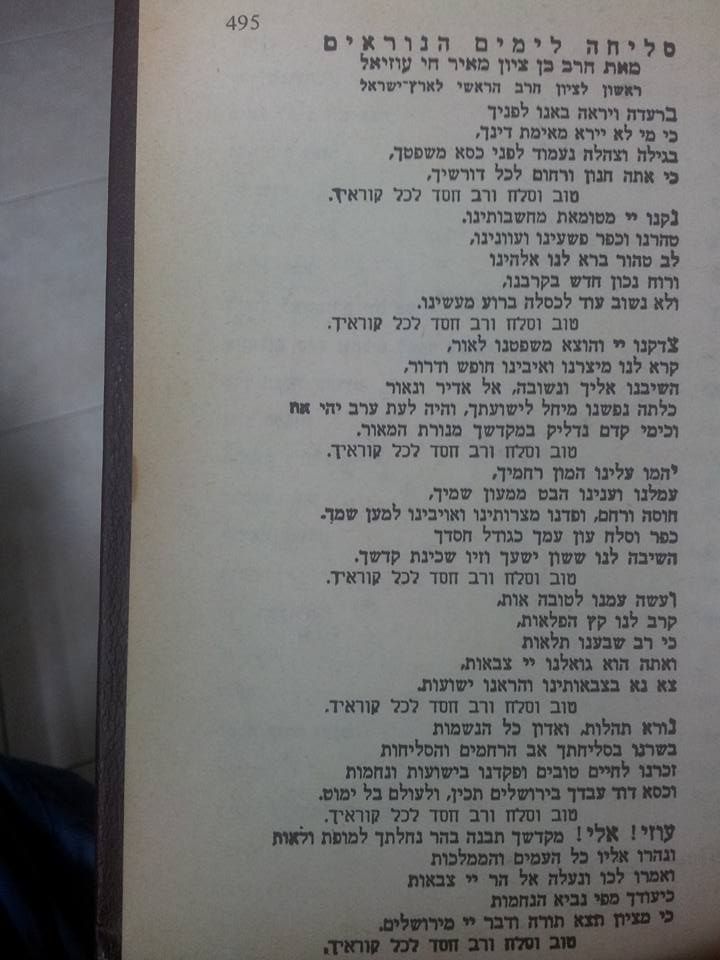 "סליחה לימים הנוראים | Seliḥah for the Days of Awe, by Rabbi Ben-Tsiyon Meir Ḥai Uziel"
is shared by Aharon N. Varady (transcription) with a
Creative Commons Public Domain Dedication 1.0 Universal
license.