---
This is a faithful transcription of a teḥinah (supplicatory prayer) composed in parallel to the prayer for entering a synagogue, Mah Tovu, following in the paraliturgical tradition of Yiddish tkhines, albeit written in French. (This particular paraliturgical prayer may be original or it may be based on an earlier work in German or Yiddish. Please contact us or comment below if you can identify it.) The prayer was included by Rabbi Arnaud Aron and Jonas Ennery in their opus, אמרי לב Prières d'un Coeur Israelite published in 1848 by the Société Consistoriale de Bons Livres. In 1855, an abridged English translation of Prières d'un Coeur Israelite was authorized by Nathan Marcus Adler, chief rabbi of the British Empire and published as Prayers and Mediatations, translated by Hester Rothschild. This is the first time the translation and its source have been set next to each other. This transcription was made possible with the help of French Wikisource contributors. If you can read French, you can help to complete our transcription by proofreading it on Wikisource.
In preparing אמרי לב Prières d'un Coeur Israelite, Rabbi Aron and Jonas Ennery were inspired by the writings of directly inspired by tkhines (Yiddish vernacular prayers) as well as by contemporary liturgists in Germany. Rabbi Aron writes:
The concept of such a book does not necessitate a new genre among us; the printed supplications (תחנות) appended at the end of old editions of our siddurim sufficiently prove the opposite. However, all these prayers – faithful expressions of pious sentiments of our ancestors – are written in Yiddish[3]Arnaud Aron here uses the term, allemand corrompu, "corrupt German." for which no translation exists in our language. They are also composed in a spirit and a form incompatible in style with the needs of our age [….] A great number of prayers in our collection are original, others are copies from our sacred texts or translated rituals from the Maḥzor, without, however, tying us slavishly to the literal text whenever the genius of our language required a different form. Finally, more than once, we drew from excellent religious books published in Germany, notably by (Meïr) Letteris, Jacobsohn, Rosenfield, etc.; their works have given us the subject and occasionally the text from other works. May these wise co-religionists please receive in public recognition our gratitude. [translation from the French by Aharon Varady]
Sources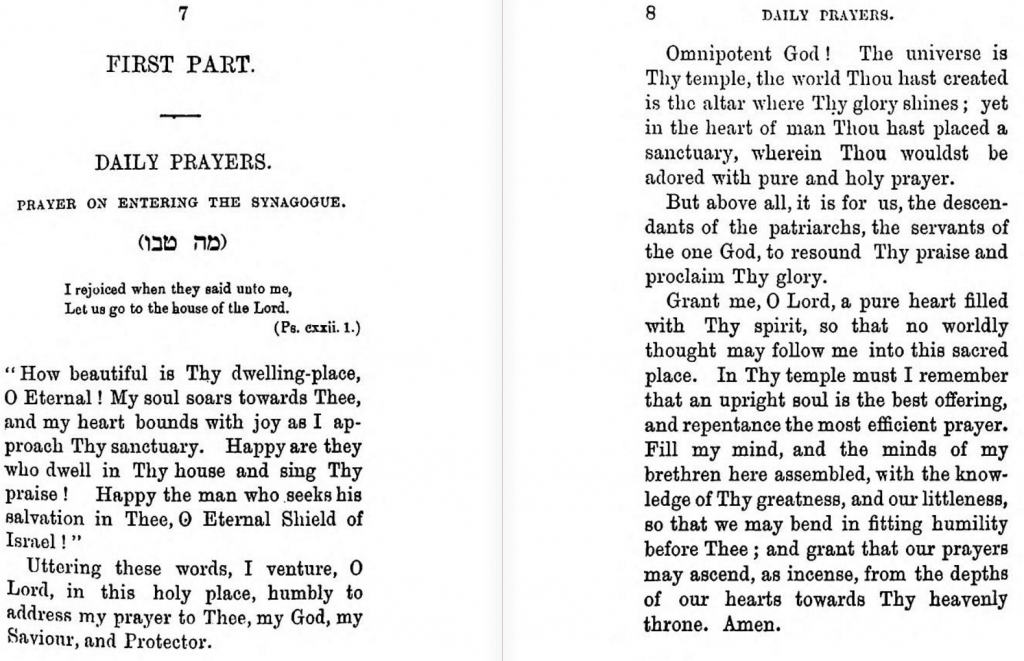 | | |
| --- | --- |
|   1. | Psalms 84:1 |
|   2. | Psalms 84:4 |
|   3. | Arnaud Aron here uses the term, allemand corrompu, "corrupt German." |

"מה טובו | A Paraliturgical Mah Tovu in French by R' Arnaud Aron and Jonas Ennery (1848), translated to English by Hester Rothschild (1855)"
is shared by Aharon N. Varady (transcription) with a
Creative Commons Attribution-ShareAlike 4.0 International
copyleft license.