Source (Hebrew)
Translation (English)

Let every prayer we recite,
every song we sing,
every teaching we listen to
set the current of Israel's life
coursing through our whole being,
challenge us to test the ever living truth
of what Israel has learned concerning man's task on earth,
and reveal to us the God who always stands at the door of our heart
waiting as it were to be admitted.

In this spirit let us pray:

"May the words of my mouth

and the meditations of my heart

be acceptable to Thee O God,

my strength and my redeemer."

[1]

Psalms 19.15
---
From the Kaplan Diaries, October 4th 1942. Thank you to Dr. Mel Scult for informing us of this prayer.
Sources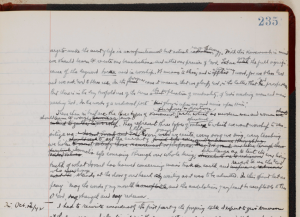 "A Kavvanah on Praying, Singing, and Listening to Torah Readings, by Rabbi Mordecai Kaplan (1942)"
is shared by the living contributor(s) under their
Fair Use Right
(17 U.S. Code §107 - Limitations on exclusive rights: Fair use), in respect to the copyrighted material included. Any additional work that is not already in the Public Domain is shared under a Creative Commons Attribution 4.0 International license.
---