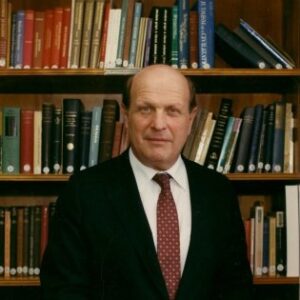 Alfred Gottschalk
Alfred Gottschalk (March 7, 1930 – September 12, 2009) was a German-born American Rabbi who was a leader in the Reform Judaism movement, serving as head of the movement's Hebrew Union College-Jewish Institute of Religion (HUC) for 30 years, as president from 1971 to 1996, and then as chancellor until 2000. In that role, Rabbi Gottschalk oversaw the ordination of the first women to be ordained as rabbis in the United States and Israel, and admitted gay and lesbian students to the school's seminary. During his tenure as president, he oversaw the development of new HUC campuses in Jerusalem, Los Angeles and New York City, three of the school's four campuses. In perpetuating and expanding the modernizing tradition of the Reform movement, Gottschalk performed the June 1972 ordination of Rabbi Sally Priesand, the first woman to be ordained in the United States. In 1975, Rabbi Gottschalk oversaw the designation of American Reform Judaism's first female hazzan (cantor), Barbara Herman. In July 1992, he oversaw the "historic and symbolic" ordination of Israel's first woman rabbi, Naamah Kelman.
http://en.wikipedia.org/wiki/Alfred_Gottschalk_%28rabbi%29
Contributed on: ב׳ בשבט ה׳תשע״ה (2015-01-22) by Alfred Gottschalk | United States Congressional Record | ❧
This prayer by Rabbi Alfred Gottschalk at the second inauguration of President Ronald Reagan was recorded in the United States' Congressional Record on January 21, 1985. . . .
---