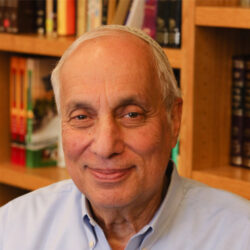 Avi Weiss
Avraham Haim Yosef (Avi) haCohen Weiss (Hebrew: אברהם חיים יוסף הכהן ווייס; born June 24, 1944) is an American Modern Orthodox ordained rabbi, author, teacher, lecturer, and activist. He is the Founding Rabbi and served as Senior Rabbi of the Hebrew Institute of Riverdale (known as "the Bayit") in New York. Since his retirement in 2015, he has served as the Rabbi-in-Residence. Rabbi Weiss is also the founding president of Yeshivat Chovevei Torah, a rabbinical seminary for men that he refers to as "Open Orthodox", a term he coined to describe an offshoot of Modern Orthodoxy, and founder of Yeshivat Maharat for women; co-founder of the International Rabbinical Fellowship, an Open Orthodox rabbinical association founded as a liberal alternative to the Modern Orthodox Rabbinical Council of America, and founder of the grassroots organization, Coalition for Jewish Concerns, AMCHA. In 2007, Rabbi Weiss was named by Newsweek magazine as one of the fifty most influential rabbis in America, describing him as "Orthodox's leading activist and leader of the Modern Orthodox community." He is the author of two books,
Women at Prayer: A Halakhic Analysis of Women's Prayer Groups
, and
Principles of Spiritual Activism
.
https://en.wikipedia.org/wiki/Avi_Weiss