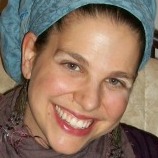 Chaya Kaplan-Lester
Chaya Kaplan-Lester is a Jerusalem-based spiritual teacher & guide, psychotherapist, and performance artist. She offers private therapy & spiritual counseling in person or via phone and Skype as well as leads spiritual journeys in Israel. As co-director of the
Shalev Center for Jewish Personal Growth
, Chaya trains and facilitates ongoing women's groups and teaches regular classes in the Jerusalem area and on her annual tours world-wide.
http://www.chayalester.com/
Contributed on: י״א בטבת ה׳תשע״ב (2012-01-05) by Chaya Kaplan-Lester | ❧
Please God Let me light More than flame tonight. More than wax and wick and sliver stick of wood. More than shallow stream of words recited from a pocket book. . . .
---
Contributed on: כ״ג בשבט ה׳תשפ״א (2021-02-04) by Chaya Kaplan-Lester | ❧
A prayer of gratitude upon receiving a COVID vaccination. . . .
---
Contributed on: י״ח בטבת ה׳תשע״ב (2012-01-13) by Chaya Kaplan-Lester | ❧
[In Parshat Vayigash] we read of the members of Jacob's family who went down to Egypt. There were 53 grandsons listed, but only a single granddaughter – Seraḥ, the daughter of Asher. The commentators wonder, what was so exceptional about this girl that her name was recorded? The Midrash spills forth with stories portraying an image of a unique and endearing Biblical heroine. Seraḥ stands as a trusted, beloved sage of the people. She possessed an uncommon gift of healing through poetry and music. Somewhat as Orpheus is to Greek myth, so is Seraḥ to the Biblical myth – the archetypal poet and bard. . . .
---
Contributed on: כ״ה בתשרי ה׳תשע״ח (2017-10-15) by Chaya Kaplan-Lester | ❧
Chaya Kaplan-Lester's "Prayer for – Finally – Getting Back to WORK" was first published on her Facebook page, here. The Hebrew word Todah תודה, means grateful. The English word 'ta-da!' is an onomatopoetic form of a horn (Cf. 1913 Sphinx July 98/1): "Coming front in utter disgust, he [sc. a conjuror] tells them [sc. the orchestra] that that won't do, that he wants something like 'tadaa!' from all of them. They seem to understand, so he goes off again. On his reappearance, however, he is met with a loud tumult, as all the orchestra shout out in unison the word 'tadaa!'" (Oxford English Dictionary). . . .
---