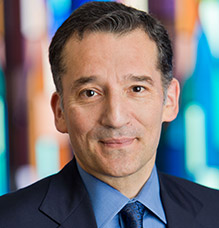 David J. Wolpe
David J. Wolpe (born 1958) is the Max Webb Senior Rabbi of Sinai Temple in Los Angeles, California. He previously taught at the Jewish Theological Seminary of America in New York, the American Jewish University in Los Angeles, Hunter College, and UCLA. Wolpe's work has been profiled in the New York Times, and he is a columnist for Time.com, he regularly writes for many publications, including The LA Times, the Washington Post's On Faith website, The Huffington Post, and the New York Jewish Week. He has been on television numerous times, including the Today Show, Face the Nation, ABC this Morning, and CBS This Morning. In addition, Wolpe has been featured in series on PBS, A&E, the History channel, and the Discovery channel. Wolpe is the author of eight books, including the national bestseller
Making Loss Matter: Creating Meaning in Difficult Times
and
David: The Divided Heart
, a finalist for the National Jewish Book Award (2014).
https://en.wikipedia.org/wiki/David_Wolpe
Contributed on: י״ט בטבת ה׳תשפ״א (2021-01-03) by Aharon N. Varady (transcription) | David J. Wolpe | ❧
The full text of Rabbi David Wolpe's benediction offered at the end of the second day of the Democratic National Convention, September 6th, 2012. . . .
---