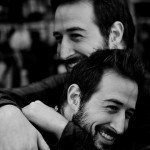 David Wolkin
David Wolkin is a writer and an educator. He lives in Takoma Park, Maryland with his partner Keeli, their cats RoboCop and Phineas, and their dog Waffles.
https://avodah.net/people/david-wolkin/
Contributed on: כ״ב באלול ה׳תשע״ו (2016-09-25) by David Wolkin | ❧
David Wolkin writes, "I've been pushing this writing exercise for a while now, but I taught a class with it in my home on Sunday and it proved to be powerful and connecting for all of us in the room. If you're reflecting/repenting this season, you might benefit from this." . . .
---