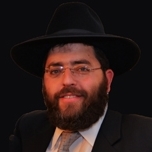 Doniel Ginsberg
Rabbi Doniel Ginsberg is associate dean of Ohr Somayach-Tanenbaum College, Jerusalem, and rabbi of Yeshiva Ateres Shmuel, of Waterbury, CT.
http://waterburyyeshiva.org/shicollection-rabbi-doniel-ginsberg
Contributed on: כ״ה באלול ה׳תשע״ח (2018-09-04) by United States Congressional Record | Doniel Ginsberg | ❧
The Opening Prayer given in the U.S. Senate on 12 June 2014. . . .
---