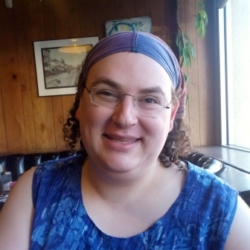 Emily Aviva Kapor-Mater
Shalom!
My name is Emily Aviva Kapor-Mater. I am a radical transfeminist rabbi and activist. I am an
autistic
, transgender woman. My rabbinic work focuses on creating innovative yet traditional Jewish law, liturgy, and ritual, in order to celebrate and affirm trans identities and experiences. I also work for acceptance and accessibility for people with visible and invisible disabilities. I am the author of
Ein Self: Early Meditations
and
Haggadah Shir Ge'ulah
. My other projects include playing chamber music, advocating for alternative education, computer programming, and smashing systems of institutional oppression.
http://www.emilyaviva.com/