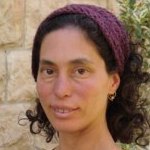 Rabbi Haviva Ner-David
Rabbi Dr. Haviva Ner-David is the Director of
Shmaya
: A Ritual and Educational Mikveh, and the founding director of
Reut
: The Center for Modern Jewish Marriage. She has also written
Chanah's Voice: A Rabbi Wrestles with Gender, Commandment, and the Women's Rituals of Baking, Bathing, and Brightening
(2013, Ben Yehudah Press). In 2006, Rabi Ner-David was was given semicha by Rabbi Dr. Aryeh Strikovsky of Tel-Aviv. In 2000 she wrote a book documenting her journey and aspirations as a female rabbi entitled,
Life on the Fringes: A Feminist Journey Toward Traditional Rabbinic Ordination
. She lives on Kibbutz Ḥannaton in northern Israel with her husband and seven children.
http://en.wikipedia.org/wiki/Haviva_Ner-David