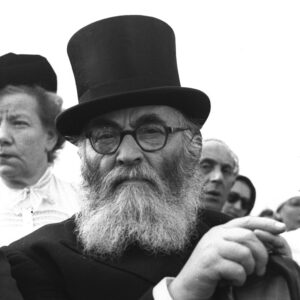 Isser Yehuda Unterman
Rabbi Isser Yehuda Unterman (איסר יהודה אונטרמן‬, April 19, 1886 – January 26, 1976) was born in Brest-Litovsk, now Belarus. He studied at the Etz Chaim Yeshiva in Maltsch under Rabbi Shimon Shkop. Returning to Lithuania to complete his studies, Unterman was ordained as a rabbi by Rabbi Refael Shapiro, and by Rabbi Simcha Zelig Reguer, the Dayan of Brisk. He founded his own yeshiva in the town of Vishnyeva around 1910. Unterman served a variety of roles in the Lithuanian Jewish community until 1924, when he was selected to become the head rabbi of Liverpool. Unterman served in Liverpool for 22 years, becoming an important figure in the English Zionist movement and working to relieve the suffering of refugees in England during the Second World War. In 1946, Unterman became the Chief Rabbi of Tel Aviv, a position he held for twenty years before being appointed the Ashkenazi Chief Rabbi of Israel in 1964 (which he held until 1972).
https://en.wikipedia.org/wiki/Isser_Yehuda_Unterman
Contributed on: ט׳ בכסלו ה׳תשע״ג (2012-11-23) by Esteban Gottfried | Isser Yehuda Unterman | ❧
A prayer was composed by Rabbi Isser Yehuda Unterman, chief rabbi of Tel Aviv, for the city's 50th anniversary (Jubilee) celebration, amended by Rabbi Esteban Gottfried of Beit Tefillah Yisraeli. . . .
---