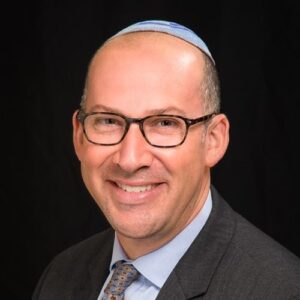 Joel Levinson
Rabbi Dr. Joel Levenson serves at the Midway Jewish Center in Syosset, NY. He earned a doctorate in Pastoral Care & Counseling from the Hebrew Union College-Jewish Institute of Religion and was ordained at the Jewish Theological Seminary, where he also received a Masters Degree in Jewish Education. He earned a B.A. from Miami University in Oxford, OH with degrees in Psychology and Political science, with studies abroad at the Hebrew University of Jerusalem. Originally from Akron, OH, in 1991 he served as International President of United Synagogue (USY). He is an alumnus of the Jewish Leaders Program, an initiative of the Kellogg School of Management at Northwestern University. He serves on the Board of the Long Island Board of Rabbis. In addition, he enjoys time each summer at Camp Ramah in the Berkshires, a sleepover camp, serving in many capacities that reflect his love of fun-based education and inspiration.
https://www.mjc.org/clergy.html
Contributed on: י״ט בטבת ה׳תשע״ט (2018-12-27) by United States Congressional Record | Joel Levinson | ❧
The Opening Prayer given in the U.S. House of Representatives on 10 July 2012. . . .
---