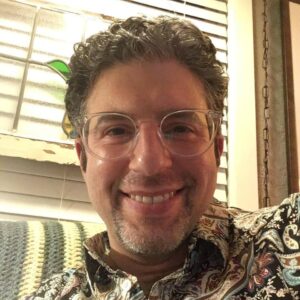 Joshua Giorgio-Rubin
Joshua Giorgio-Rubin is a Senior Lecturer of English at Indiana University South Bend, and he spent 10 years as the spiritual leader of the Jewish community at Culver Academies in Culver, IN. He is the high holidays chazzan at Temple Israel in Valparaiso, IN, and a student of all things Jewish. He lives in South Bend, IN, with his husband, son, and small menagerie.
https://clas.iusb.edu/english/faculty/giorgio-rubin.html
Contributed on: ט״ו באב ה׳תש״פ (2020-08-04) by Joshua Giorgio-Rubin | ❧
An adaptation of a short portion of David Einhorn's work, Olat Tamid, by Joshua Giorgio-Rubin. Olah Hadashah—"a new offering"—is, he writes, "an attempt to bring this assurance into the present. Using modern English, gender-neutral language, and including the matriarchs in the Amidah, I hope to make a little sliver of Einhorn's genius accessible to today's Jews. In so doing, I hope we can find renewed purpose in our fight for justice, rooted in renewed appreciation of Judaism's moral imperatives." . . .
---
Contributed on: י״א באייר ה׳תש״פ (2020-05-04) by Joshua Giorgio-Rubin | ❧
A weekday morning siddur in Hebrew with English translation prepared by Joshua Giorgio-Rubin adapted from traditional sources. . . .
---