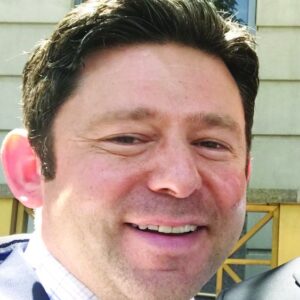 Lawrence R. Sernovitz
Lawrence Sernovitz is the rabbi/executive director of Nafshenu in Cherry Hill, New Jersey. Rabbi Sernovitz founded Nafshenu with the understanding that Judaism must be reimagined to remain relevant and meaningful in today's world. With this in mind, Rabbi Sernovitz set out to create a model of Judaism and Jewish life in Southern New Jersey that would be bold, courageous, and transformative. Assembling a core team of families who also believed in this vision, Nafshenu was created with a foundation that Jewish life first and foremost is about people, about their hopes and dreams. Rabbi Sernovitz has been focused on areas in his rabbinate that include education, interfaith matters, prayer and spirituality, and social justice. He is on the Statewide Clergy Caucus of Faith in New Jersey and received their Faith in Love award in 2018 for his justice work. He also is the recipient of Camden County's MLK Freedom Medal for his community and justice work. Rabbi Sernovitz also serves as a Chaplain for the Cherry Hill and Maple Shade Police Departments. In April of 2016, Rabbi Sernovitz received the Ambassador Award from the New Jersey Governor's Council on Mental Health Stigma. Prior to coming to Cherry Hill, he served Old York Road Temple-Beth Am in Abington, Pennsylvania, where he was honored to serve as Vice-Chair of the Montgomery County Advisory Council of the Pennsylvania Human Relations Commission and received its Trailblazer Award in 2013 at the annual Civil Rights Luncheon. Rabbi Sernovitz is also passionate about Jewish Genetic Disease Awareness and has spoken around the country, advocating for testing among those of child bearing age.
https://www.nafshenu.org
Contributed on: ג׳ בסיון ה׳תשע״ט (2019-06-05) by United States Congressional Record | Lawrence R. Sernovitz | ❧
The Opening Prayer given in the U.S. House of Representatives on 4 June 2019. . . .