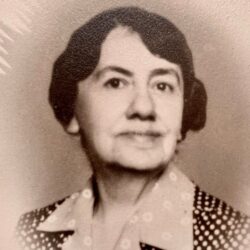 Lise Tarlau
Lise Tarlau (also known as L'Ysaye/Isaye/Ysaye/Ysale, Lisa, Lize, Elizabeth, Luise, and Louise Tarleau; 1879-1952), was a writer born to a prominent Viennese Bohemian Jewish family, the daughter of Rabbi Dr. Joseph Samuel Bloch and Laura Lachmann. In an essay published in 1906, "The Religious Problem," she expressed enthusiasm for Zionism and a deep sympathy for East European, Yiddish speaking Jewry, praising them for having retained their own distinctive cultural identity and their own language. This posture was accompanied by harsh criticism of Western European Jewish cultural assimilation, writing that they have "lived as parasites on the creative possibilities of the dreams of beauty of other peoples" (as quoted in Peter Singer's
Pushing Time Away
, 2003). Before emigrating to the United States in 1908, nearly two dozen prayers she wrote were published in
Beruria
(1907), an anthology of teḥinot in German compiled by her sister's husband Rabbi Dr. Max Grunwald. A decade later in the US, Houghton Mifflin Company and Riverside Press published
The Inn of Disenchantment
(1917), a collection of her prose and several short stories. Tarlau's fiction also appeared in major magazines of the day, including
The Nation
(105:2725, September 20, 1917),
The Atlantic Monthly
(in 1919), and
Harper's Magazine
. In 1924, her short story "
Loutré
" was awarded second place in
Harper's
first ever short story contest. During World War II, she wrote a number of scripts for radio and film and worked as a translator for the US military. Several of her works were included in
The Fireside Book of Romance
(ed. C. Edward Wagenknecht, 1948). She died on October 9, 1952 in Kew Gardens, Queens, Long Island, New York.
https://www.geni.com/people/Louise-Tarlau/6000000039642814681