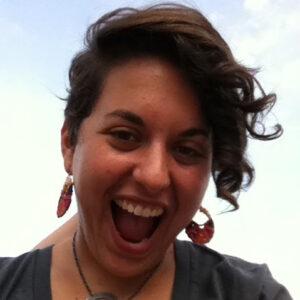 Margot Seigle
Margot is a queer, white, Ashkenazi Jew born and raised in Elgin, IL, where her Great Grandpa arrived three generations ago, and where her parents met at the synagogue her Great Grandpa started. Growing up with more than enough, she believes that we would all – even the 1%! – be better off if everyone had enough, and fights to shift this paradigm. An organizer at heart, she does this through supporting the leadership development of individuals and building collective energy and shared decision-making structures around projects that shift power and resources to those at the frontlines of injustice. Margot sees learning about the impacts of privilege and oppression as well as building tools to support the healing of this impact as crucial to being an effective change maker. She seeks to bring her values, skills, and networks to the Jewish community to thinking about what healing looks like with the complex history as well as expanding our concept of and strengthening our obligation to community. In her free time, Margot enjoys crafting, singing, fiddling, cooking, meditating, biking, and bringing people together. Margot is currently the Ḥazon Transformative Experiences Fellow based out of Isabella Freedman Jewish Retreat Center.
Contributed on: ט״ו באב ה׳תשע״ד (2014-08-11) by Margot Seigle | Danielle Gershkoff | Rachel Lerman | Rachel Beck | ❧
This Haggadah was created specifically for a seder that took place April 20, 2014 outside the White House as an act of solidarity with the #not1more deportation campaign hunger strikers. While it is created for a seder without food, in a cross cultural setting, framed around the issue of deportation, there are many gems that can be adapted to work for any seder. This is a work of love. We hope you enjoy, use, and share! We would love to hear from you! Email us at jewssayno2deportation@gmail.com to get in touch or to share how you adapt it for your community. Check out some reflects on the seder here. . . .
---