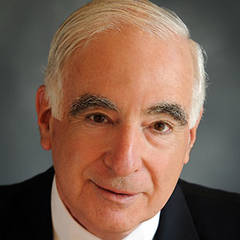 Martin Weiner
Rabbi Martin Weiner is the rabbi emeritus of Sherith Israel, San Francisco, California. He undertook his rabbinic studies at Hebrew Union College in Cincinnati, where he earned his ordination and a master of arts in Hebrew letters in 1964. Following his ordination, Rabbi Weiner was assistant, associate and co-rabbi at Temple Oheb Shalom of Baltimore, Maryland. While there, he served as chair of the Baltimore chapter of the American Jewish Committee, was on the state board of the ACLU and taught Jewish Religious Thought at Goucher College. Rabbi Weiner joined Congregation Sherith Israel as senior rabbi in 1972. He energized the congregation during his 31-year tenure at Sherith Israel, attracting many new members. Known throughout the community for his quest for social justice, particularly in the areas of civil rights, human rights and Soviet Jewry, Rabbi Weiner was a member of the San Francisco Human Rights Commission for many years. Rabbi Weiner served as President of the Central Conference of American Rabbis (CCAR), Reform Judaism's professional rabbinical association. Previously he had served as an officer and as a CCAR board member. He currently chairs the CCAR's ethics process review committee and is a longstanding member of the Reform Pension Board. He also served on the editorial committee for the Reform movement's new prayer book,
Mishkan T'filah
. In San Francisco, he has been on the boards of the Jewish Community Federation, the American Jewish Committee and Jewish Family and Children's Services. Rabbi Weiner has also served as president of the Pacific Association of Reform Rabbis and as chair of the San Francisco Interfaith Council. He has been honored by the American Jewish Committee and the American Jewish Congress.
https://www.sherithisrael.org/rabbi-weiner.html
Contributed on: כ״א בטבת ה׳תשפ״א (2021-01-04) by Aharon N. Varady (transcription) | Martin Weiner | ❧
The full text of Rabbi Martin Weiner's invocation offered on the second day of the Democratic National Convention, July 17th, 1984. . . .
---