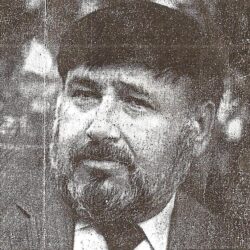 Norman Geller
Norman Geller (1935-1992) was an author of juvenile fiction, an aviator, a speech pathologist, and a rabbi serving Congregation Beth Abraham in Auburn, Maine. He wrote the following:
The first seven days: a poem
(1983),
David's Seder
(1983),
Talk to God. . . I'll Get the Message
(1984),
"I don't want to visit Grandma Anymore
(1984),
Color me: kosher for Passover
(1985),
It's not the Jewish Christmas
(1985),
Unto dust you shall return: a story explaining cremation
(1986),
The Last Teenage Suicide
(1987), and
Farfel the Cat That Left Egypt
(1987).