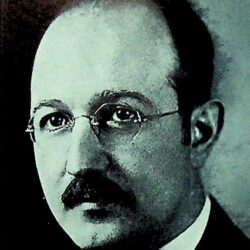 Norman Michael Goldburg
Rabbi Norman Michael Goldburg (Feb 22, 1902 - Jun 12, 1993) originally from St. Louis, Missouri, was ordained at HUC and graduated from the University of Cincinnati, afterward doing graduate work at the University of Chicago and Howard Divinity School. He served as rabbi of Temple B'nai Israel in Sacramento, California in the 1930s. There, he was appointed chaplain of the State Legislature during the biennial session of 1933, and led the Sacramento Council for Civic Unity through which he advocated for Japanese Americans' civil rights. During World War Ⅱ, he served as a chaplain in the US Army. In 1949, he came to Augusta, Georgia where he served as rabbi for the the Walton Way Temple (later Temple Children of Israel) until 1968. Rabbi Goldburg also served as president of Augusta Library and taught philosophy at Augusta College. He held honorary degrees from HUC and Augusta (Georgia) College of Law. Besides his collection of prayers written during his tenure as chaplain in Sacramento, he also wrote the novel,
Patrick J. McGilllcuddy and the Rabbi
(1969).