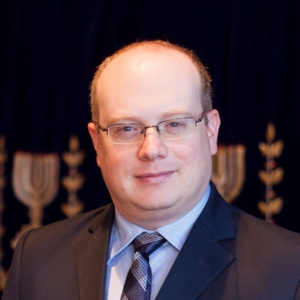 Oren Steinitz
Rabbi Dr. Oren Z. Steinitz is the spiritual leader of Congregation Kol Ami in Elmira, NY. He was ordained in 2014 at the Mesifta Adas Wolkowisk Rabbinical Academy, and is a member of OHALAH Association of Rabbis for Jewish Renewal. The same year he completed his doctorate at the University of Calgary's Interdisciplinary Graduate Program (Religious Studies, Communications and Israel Studies), researching the attitude towards the "Other" in Jewish and Islamic legal websites. Rabbi Oren holds BA and MA degrees from the Ben Gurion University of the Negev (Israel). His fields of expertise include the history of Jewish-Muslim relations; modern Jewish fundamentalism; Jewish and Islamic Law; and the religious online world. Before assuming his current position, Rabbi Oren served for five years as the University of Calgary's Jewish Chaplain, taught at Mount Royal University in Calgary, and worked for the Masorti Movement in Israel.
http://orensteinitz.com
Contributed on: ט׳ באלול ה׳תש״פ (2020-08-28) by Oren Steinitz | Unknown Author(s) | ❧
Hineni – the leader's prayer that opens the High Holy Days Mussaf has always been a challenge for me. While a dramatic moment in the service, it always seemed a little *too* grand to represent a prayer of humility. This is a version of it I wrote in an attempt to make myself more comfortable at that moment. –Rabbi Oren Steinitz . . .
---
Contributed on: ד׳ בתמוז ה׳תשפ״א (2021-06-14) by Aharon N. Varady (transcription) | Oren Steinitz | Tsvi Hirsch Robinson | ❧
A prayer for protection against noxious gases and people. . . .
---
Contributed on: ה׳ בניסן ה׳תשע״ו (2016-04-13) by Oren Steinitz | ❧
As powerful a practice as a standing meditation may be, reciting the familiar words of the Amidah with intention can prove to be a major challenge. The words may become rote, and the davvener may wonder if the ancient formulas are even meaningful to them. In this adaptation of the Amidah, Oren Steinitz treats each B'rakhah as a prompt to remind ourselves what we are praying for and shares his own thoughts as an example. Rabbi Steinitz originally wrote the "Memory Amidah" in 2013, during the Davennen Leadership Training Institute cohort 7, and revised it for sharing here through the Open Siddur Project in 2016. . . .
---
Contributed on: ה׳ בניסן ה׳תשע״ה (2015-03-25) by Elijah's Journey | Oren Steinitz | ❧
Although God often speaks to humanity in the rumble of earthquakes, the roaring of wind and the thunder of storms, God spoke to Elijah, instead, in a still small voice. And, it was the nurturing power of the still small voice that slowly gave Elijah the courage and strength to be able to peek out of his deep abyss. On this night when we welcome Elijah to join our celebration, we acknowledge those who are so pained that they cannot fully celebrate, for joy eludes them. Although we may witness their physical wound with our eyes, we must also find ways to become attuned to their spiritual hurt and their emotional despair. The blood from the wound in their heart may not be visible and the cry in the depth of their throat may not be audible unless we train ourselves to attend to them. But, they are there. Our challenge is see and hear the pain of those whose depression affects their lives. Our response does not have to be bold in order to make a difference. A still small voice can transform a frown into a smile. A caring whisper that says, "I care" can raise a stooped head. A tender embrace can provide salve to a soul racked with pain. . . .
---
Contributed on: ה׳ בתמוז ה׳תשע״ז (2017-06-28) by Oren Steinitz | Unknown Author(s) | ❧
This Kaddish was first published online at Jewish Renewal Chassidus by Gabbai Seth Fishman. Rabbi Oren Steinitz translated the kaddish on the 3rd yahrzeit after Reb Zalman's passing. . . .
---