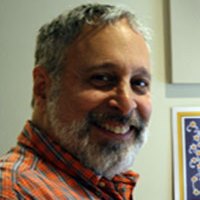 Rabbi Sam Seicol
Rabbi Sam Seicol was ordained as a Reform rabbi in 1978 and is a volunteer at the Vilna Shul in Boston. There he offers classes and programs on a wide range of topics such as Understanding Judaism, Aging and Spirituality, Music and Humor as Pathways to Spiritual Well-being, and History and Development of American Jewish Humor. He is part-time Interfaith Chaplain at Mass Eye and Ear in Boston and part-time Rabbi at Temple Israel of Dover, New Hampshire. Rabbi Seicol has served as MIT's Hillel Community Education & Engagement Director. He previously worked with congregations as an interim rabbi in Hyannis, Pittsfield, and Tampa. Before that he was the Chaplain/Director of Religious Services at the Hebrew Rehabilitation Center for the Aged in Boston from 1994 through 2003, and has worked in the field of Geriatric Chaplaincy since 1982.
Contributed on: י״ט בשבט ה׳תש״פ (2020-02-14) by Aharon N. Varady (transcription) | Rabbi Sam Seicol | Elazar ben Moshe Azikri | ❧
A variation of the piyyut "Yedid Nefesh" in Hebrew with English translation. . . .
---
Contributed on: כ״ט באדר ב׳ ה׳תשע״ד (2014-03-30) by Aharon N. Varady (transcription) | Rabbi Sam Seicol | ❧
We are grateful to the Vilna Shul in Boston and their Ḥavurah on the Hill program for preparing "Siddur on the Hill," (2011) a beautiful siddur for Shabbat Friday night services and sharing it with free-culture compatible, open content licensing. The siddur includes original translations in English from Rabbi Sam Seicol, interpretive writings by Rabbi Rami Shapiro, and illustrations by Georgi Vogel Rosen, as well as contributions from numerous others. Thank you for sharing your siddur, open source! . . .
---
Contributed on: י״ז באב ה׳תשע״ז (2017-08-09) by Rabbi Sam Seicol | the Masoretic Text | David haMelekh ben Yishai (traditional attribution) | ❧
A modern translation of the Ashrei in alphabetic parallel to the Hebrew. . . .
---