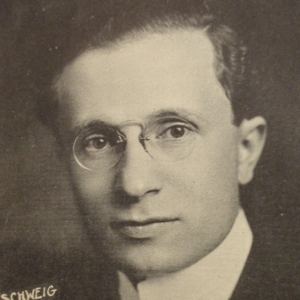 Samuel Thurman
Born in Russia, Rabbi Samuel Thurman came to America as a child and grew up in Boston. There he attended Boston Latin Grammar School and then Harvard University, where he graduated magna cum laude. From there he enrolled in Hebrew Union College in Cincinnati to prepare for the rabbinate. After serving in Lexington, Kentucky (ca.1908), Kalamazoo, Michigan (ca.1908-1912, and Trenton, New Jersey (ca.1912-1914, he came to United Hebrew in St. Louis, Missouri in 1914, where he served the congregation until he died in 1963 at the age of eighty. An exceptionally dynamic orator, he spoke frequently before other congregations, including many Christian churches. Thurman was instrumental in bringing together rabbis of fellow Jewish congregations through his role in the creation of the St. Louis Rabbinical Association. A Thirty-Third Degree Mason, he was a longtime fiend of Harry S. Truman. Thurman was singularly honored when he was invited to deliver the invocation at President Truman's inauguration in January 1949, the first rabbi in American history to participate in a presidential inauguration.
Contributed on: ב׳ בשבט ה׳תשע״ה (2015-01-21) by Samuel Thurman | United States Congressional Record | ❧
This prayer by Rabbi Samuel Thurman, of the United Hebrew Temple (St. Louis, Missouri), was recorded in the United States' Congressional Record for January 20, 1949. . . .
---