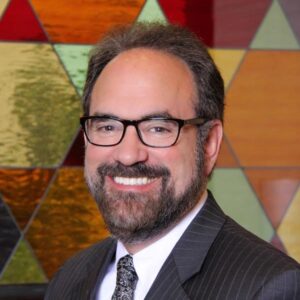 Sanford Akselrad
Rabbi Sanford Akselrad (1957- ) is the spiritual leader of Congregation Ner Tamid in Las Vegas, Nevada, a position he has held since 1988. Rabbi Akselrad moved to Las Vegas for the job and has been a leader in the local Jewish community ever since. He started Project Ezra during the recession to help Jewish community members find jobs, and established the NextGen program to bring young adults in their twenties and thirties back to the temple. For over twenty years Rabbi Akselrad was a member of the board of the Nevada Governor's Council on Holocaust education, a topic that was the focus of his rabbinical thesis. He was the founding president of the Clark County Board of Rabbis and has served on the boards of the Jewish Federation of Las Vegas, Jewish Family Services, and the Humana Hospital Pastoral Advisory Board. He was also the chair of the Federation's Community Relations Council (CRC). Rabbi Akselrad is a board member of the Anti-Defamation League Nevada region office and the Interfaith Council of Southern Nevada.
http://digital.library.unlv.edu/jewishheritage/people/rabbi-sanford-akselrad
Contributed on: ט״ו באייר ה׳תשע״ח (2018-04-29) by United States Congressional Record | Sanford Akselrad | ❧
The Opening Prayer given in the U.S. House of Representatives on 28 March 2017. . . .
---