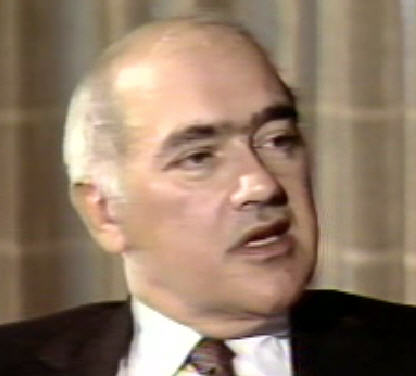 Seymour Siegel
Seymour Siegel (September 12, 1927 - February 24, 1988), often referred to as "an architect of Conservative Jewish theology," was an American Conservative rabbi, a Professor of Ethics and Theology at the Jewish Theological Seminary of America (JTS), the 1983-1984 Executive Director of the United States Holocaust Memorial Council,"[1] and an advisor to three American Presidents, Richard Nixon, Gerald Ford, and Ronald Reagan. Siegel was associated with JTS for 41 years, first as a student and later as an instructor, holding the Ralph Simon Professor of Ethics and Theology chair, succeeding his friend and mentor, Rabbi Abraham Joshua Heschel, in that position. He was an outspoken champion of political conservatism, delivering a prayer at the 1973 second term inauguration of President Richard Nixon, but just as strong a champion of religious causes sometimes associated with liberalism, such as the ordination of female rabbis. In his obituary, New York Times religion writer, Ari L. Goldman, wrote that the writings of Seymour Siegel "helped open the door for the ordination of female rabbis" in the Conservative movement.
http://en.wikipedia.org/wiki/Seymour_Siegel
Contributed on: ב׳ בשבט ה׳תשע״ה (2015-01-21) by Seymour Siegel | United States Congressional Record | ❧
This prayer by Rabbi Seymour Siegel at the second inauguration of President Richard M. Nixon was recorded in the United States' Congressional Record on January 20, 1973. . . .
---