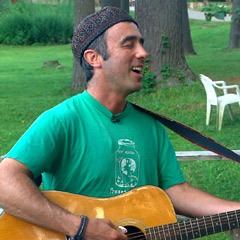 Shamu Fenyvesi Sadeh
Since 2004, Shamu Sadeh has been the program director of the Adamah Fellowship and educational farm. Drawn to the integration of soul and soil, Shamu works for the creation of a fruitful ecological landscape while building confidence, mindfulness and community among Adamah Fellows. Before co-founding Adamah, Shamu was a professor of environmental studies, writer, Jewish educator and wilderness guide. He directed the Teva Learning Center in its early years and completed a doctorate in Educational Leadership. In 2010, the "Forward" named Shamu one of the "Forward 50" who made significant contributions to Jewish life in America. Shamu has the yichus – ancestral connections – for Adamah from his great-grandparents and father, Jewish farmers and gardeners who practiced the mystical arts of composting and soil conservation.
http://hazon.org/adamah/
Contributed on: י״ב בסיון ה׳תשע״א (2011-06-14) by Aharon N. Varady (transcription) | Sarah Chandler | Shamu Fenyvesi Sadeh | ❧
The prayer/songsheet used for the Avodat Lev dawn prayer service of the farmers in the Adamah Fellowship on the campus of the Isabella Freedman Retreat Center in Falls Village, Connecticut. . . .
---