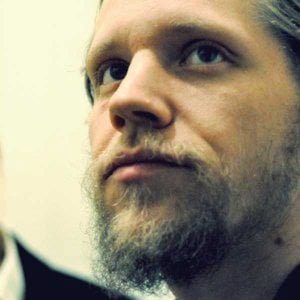 Shir Yaakov Feinstein-Feit
Shir Yaakov is an aba, singer, composer, designer, producer and teacher. Whether as Romemu's Musical Director, an officiant at weddings and lifecycle events, or as one-half of the world-hop duo Darshan; in synagogues, yeshivas, and intentional communities around the world; and in Jewish, multi-faith, and non-affiliated spiritual contexts, Shir Yaakov weaves a tapestry of Kabbalistic wisdom, contemporary songwriting, and deep personal spirituality. He has recorded and released four albums of original music. As a spiritual leader, he has led services and ritual in a wide variety of contexts, from Hasidic yeshivas to multifaith, LGBTQ, and earth-based spiritual groups.
http://shiryaakov.com/
Contributed on: י״ד בסיון ה׳תשע״ה (2015-06-01) by Shim'on Menachem | Shir Yaakov Feinstein-Feit | David haMelekh ben Yishai (traditional attribution) | ❧
Listen to a recording of Psalm 23 chanted to an Indian-inspired melody. . . .
---
Contributed on: ד׳ באדר ה׳תשע״ח (2018-02-18) by Shir Yaakov Feinstein-Feit | Unknown Author(s) | ❧
This translation was prepared by Shir Yaakov Feinstein-Feit in loving memory of his sister, Laurie Feit, z"l, (1961-2017). "Midrash HaGadol or The Great Midrash (Hebrew: מדרש הגדול) is an anonymous late (14th century) compilation of aggadic midrashim on the Pentateuch taken from the two Talmuds and earlier Midrashim of Yemenite provenance. In addition, it borrows quotations from the Targums, and Maimonides[2] and Kabbalistic writings (Oesterley & Box 1920), and in this aspect is unique among the various midrashic collections. This important work—the largest of the midrashic collections—came to popular attention only relatively recently (late 19th century) through the efforts of Jacob Saphir, Solomon Schecter, and David Zvi Hoffman. In addition to containing midrashic material that is not found elsewhere, such as the Mekhilta of Rabbi Shimon bar Yochai, the Midrash HaGadol contains what are considered to be more correct versions of previously known Talmudic and Midrashic passages." (via wikipedia) . . .
---
Contributed on: כ״ז בכסלו ה׳תשע״ו (2015-12-08) by Aharon N. Varady (transcription) | Paltiel Birnbaum (translation) | Eden Pearlstein | Shir Yaakov Feinstein-Feit | ❧
A song by Darshan including the alphabetic acrostic piyyut, El Barukh, part of the morning Yotser Ohr blessing made prior to the Shema at the official beginning of the Shaḥarit service. . . .
---