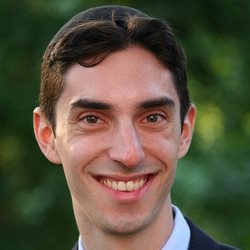 Steven I. Rein
Originally from Fairfield, New Jersey, Rabbi Steven I. Rein received his rabbinic ordination from the Jewish Theological Seminary where he also earned an M.A. in Talmud and Rabbinics from the Graduate School at JTS. He joined Agudas Achim Congregation in 2014 after five years as the Assistant Rabbi of Park Avenue Synagogue in Manhattan. Outside of his synagogue responsibilities, Rabbi Rein is a reserve chaplain in the United States Air Force. Commissioned in 2005 he has served at Hanscom AFB, MA, the United States Air Force Academy, CO, Wright Patterson AFB, OH, Bolling Air Force Base, DC, Langley AFB, VA, and Joint Base Andrews, MD. Rabbi Rein was promoted to Major in October 2017 and currently serves as the Jewish Chaplain for Arlington National Cemetery. He has also served since 2011 as a member of the Religious Leadership Advisory Board of the Jewish Theological Seminary.
https://agudasachim-va.org/welcome/our-clergy-and-professional-staff/rabbi-steven-i-rein
Contributed on: ה׳ בתמוז ה׳תשע״ח (2018-06-17) by Steven I. Rein | United States Congressional Record | ❧
The Opening Prayer given in the U.S. House of Representatives on 12 June 2018. . . .
---