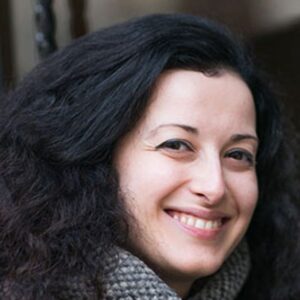 Sveta Kundish (translation)
Sveta Kundish was born in Ukraine in 1982 and began studying music at age seven. After settling in Israel with her family in 1995, she continued her music studies at the Tel Aviv Municipal Arts High School, focusing on voice and piano. Following her graduation, she studied voice with Ella Akritova, a prominent singer and former professor at the Kiev Conservatory and, in 2001, began attending the Yiddish music master class of Nechama Lifshitz. In 2003, she enrolled in the musicology program at Tel Aviv University, earning a B.A. in 2007; that same year, she was invited by Prof. Yuri Kokozey to study voice at the Prayner Konservatorium in Vienna. During her studies in Vienna, Sveta won first prize at the 2008 Golden Hanukkia international vocal competition in Berlin. Following her graduation in 2011, Sveta began a master studies program at the Cantorial Department of the Abraham Geiger Kolleg in Berlin, which she completed in 2018.
https://ysw2019.yiddishsummer.eu/main/about-ysw/all-artists/svetakundish.html
Contributed on: ט״ז בתמוז ה׳תש״פ (2020-07-07) by Daniel Kahn (translation) | Yeva Lapsker (translation) | Patrick Farrell (translation) | Sveta Kundish (translation) | Shlomo Shmulevitz | ❧
A song in Yiddish bemoaning the suffering brought about in an epidemic. . . .
---