The following seven lessons by Rabbi Hillel Ḥayim Yisraeli-Lavery to help the student prepare for their reading of Megillat Esther. The nusaḥ taught is Israeli style Ashkenaz-Lithuanian.
The complete reading of Megillat Esther

"Learn the Kriyat Megillat Esther with Rabbi Hillel Yisraeli-Lavery"
is shared through the Open Siddur Project with a
Creative Commons Attribution-ShareAlike 4.0 International
copyleft license.
---

R' Hillel Ḥayyim Lavery-Yisraëli
Hillel Lavery-Yisraëli is the rabbi of Israel Center of Conservative Judaism in Queens, New York. Born in Vancouver, British Columbia, he did most of his rabbinical training in Jerusalem. He lived in Israel for 16 years, during which time he taught at the Conservative Yeshiva in Jerusalem and served as the rabbi of Conservative Congregation Beit Israel in Netanya. From 2012-2015 he served as chief rabbi of Gothenburg, Sweden. Until August 2022, he served as the rabbi of Beth Jacob Synagogue in Hamilton, Canada. In keeping with his position as rabbi, he is an activist for human rights, women's rights, anti-racism, 2S LGBTQIA+ rights and basic income. He has authored numerous articles, some of which can be seen here and here. Click here to watch his lecture, "Gender, Sexuality and Identity in the Jewish Tradition". More of his instructional videos can be found on youtube here and here. Rabbi Hillel is married to Yonah who is also a rabbi, a soferet and an artist. He is the proud father of four children.
Associated Image: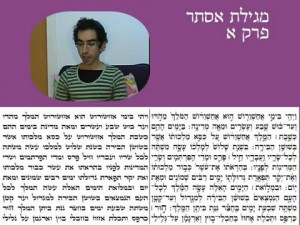 (This image is set to automatically show as the "featured image" in category lists and in shared links on social media.)
Terms of Use:
Be a mentsch (a conscientious, considerate person) and adhere to the following guidelines:
Properly attribute the work to R' Hillel Ḥayyim Lavery-Yisraëli.
Clearly indicate the date you accessed the work and in what ways, if any, you modified it. (If you have adapted the work, let us know so that the contributor might consider endorsing your revision.)
Provide the stable link to this resource: <https://opensiddur.org/?p=4515>.
Indicate that the original work was shared under the Creative Commons Attribution-ShareAlike (CC BY-SA) 4.0 International copyleft license. (To redistribute or remix this work in any format, modified or unmodified, you must refer to the terms of the license under which the work is shared.)
Note:
The views expressed in this work represent the views of their creator(s) and do not necessarily represent the views of the Open Siddur Project's developers, its diverse community of contributors, patrons, or institutional partners.
Support this work:
The Open Siddur Project is a volunteer-driven, non-profit, non-denominational, non-prescriptive, gratis & libre Open Access archive of contemplative praxes, liturgical readings, and Jewish prayer literature (historic and contemporary, familiar and obscure) composed in every era, region, and language Jews have ever prayed. Our goal is to provide a platform for sharing open-source resources, tools, and content for individuals and communities crafting their own prayerbook (siddur). Through this we hope to empower personal autonomy, preserve customs, and foster creativity in religious culture. If you like what you've found here, please help keep our project alive and online with your financial contribution.

ויהי נעם אדני אלהינו עלינו ומעשה ידינו כוננה עלינו ומעשה ידינו כוננהו

"May the pleasantness of

אדֹני

our elo'ah be upon us; may our handiwork be established for us — our handiwork, may it be established." –Psalms 90:17
Works of related interest: