Source (Hebrew)
Translation (Yiddish)

א לָמָּה רָגְשׁוּ גוֹיִם וּלְאֻמִּים יֶהְגּוּ־רִיק׃ ב יִתְיַצְּבוּ מַלְכֵי־אֶרֶץ וְרוֹזְנִים נוֹסְדוּ־יָחַד עַל־יְהוָה וְעַל־מְשִׁיחוֹ׃ ג נְנַתְּקָה אֶת־מוֹסְרוֹתֵימוֹ וְנַשְׁלִיכָה מִמֶּנּוּ עֲבֹתֵימוֹ׃ ד יוֹשֵׁב בַּשָּׁמַיִם יִשְׂחָק אֲדֹנָי יִלְעַג־לָמוֹ׃ ה אָז יְדַבֵּר אֵלֵימוֹ בְאַפּוֹ וּבַחֲרוֹנוֹ יְבַהֲלֵמוֹ׃ ו וַאֲנִי נָסַכְתִּי מַלְכִּי עַל־צִיּוֹן הַר־קָדְשִׁי׃ ז אֲסַפְּרָה אֶל חֹק יְהוָה אָמַר אֵלַי בְּנִי אַתָּה אֲנִי הַיּוֹם יְלִדְתִּיךָ׃ ח שְׁאַל מִמֶּנִּי וְאֶתְּנָה גוֹיִם נַחֲלָתֶךָ וַאֲחֻזָּתְךָ אַפְסֵי־אָרֶץ׃ ט תְּרֹעֵם בְּשֵׁבֶט בַּרְזֶל כִּכְלִי יוֹצֵר תְּנַפְּצֵם׃ י וְעַתָּה מְלָכִים הַשְׂכִּילוּ הִוָּסְרוּ שֹׁפְטֵי אָרֶץ׃ יא עִבְדוּ אֶת־יְהוָה בְּיִרְאָה וְגִילוּ בִּרְעָדָה׃ יב נַשְּׁקוּ־בַר פֶּן־יֶאֱנַף וְתֹאבְדוּ דֶרֶךְ כִּי־יִבְעַר כִּמְעַט אַפּוֹ אַשְׁרֵי כָּל־חוֹסֵי בוֹ׃


1

פֿאַר װאָס רודערן די פֿעלקער,

און די אומות טוען ברומען אומנישט?

2

די מלכים פֿון דער ערד שטעלן זיך אױף,

און די פֿירשטן עֵצהן זיך אין אײנעם

אױף גאָט און אױף זײַן געזאַלבטן:

3

לאָמיר צערײַסן זײערע בינד,

און אַראָפּװאַרפֿן פֿון אונדז זײערע שטריק.

4

דער װאָס זיצט אין הימל לאַכט,

גאָט טוט שפּעטן פֿון זײ.

5

דענצמאָל װעט ער רעדן צו זײ אין זײַן כּעס,

און אין זײַן גרימצאָרן װעט ער זײ דערשרעקן:

6

דאָס האָב איך דאָך אױפֿגעשטעלט מײַן מלך

אױף צִיון מײַן הײליקן באַרג.

7 לאָמיר דערצײלן פֿון דער באַשערונג:
גאָט האָט מיר געזאָגט: מײַן זון ביסטו,
איך האָב הײַנט דיך געבאָרן.
8 בעט בײַ מיר, און איך װעל געבן פֿעלקער פֿאַר דײַן אַרב,
און פֿאַר דײַן אײגנטום די עקן פֿון דער ערד.
9 װעסט זײ צעברעכן מיט אַן אײַזערנער רוט,
װי אַ טעפּערגעפֿעס זײ צעפּיצלען.

10 און אַצונד, איר מלכים, באַטראַכט,
לאָזט אײַך לערנען, איר ריכטער פֿון דער ערד.
11 דינט גאָט מיט מורא,
און שױדערט אין ציטערניש.
12 אַכפּערט מיט לױטערקײט, כּדי ער זאָל ניט צערענען,
און איר װעט פֿאַרלירן דעם װעג, אַז זײַן כּעס װעט זיך אָנצינדן באַלד;

װױל איז צו אַלע װאָס שיצן זיך אין אים.

---
This is a faithful transcription by the Yehoyesh Project of the Yiddish translation of Psalms 2 made by Yehoyesh Shloyme (Yehoash Solomon) Blumgarten (1870-1927) published in Torah, Nevi'im, u-Khetuvim vol. 2 (New York: Yeho'ash Farlag Gezelshaft, 1941). The complete transcription of Torah, Nevi'im, u-Khetuvim by the Yehoyesh Project in copy/pasteable and searchable plaintext may be found here.
Source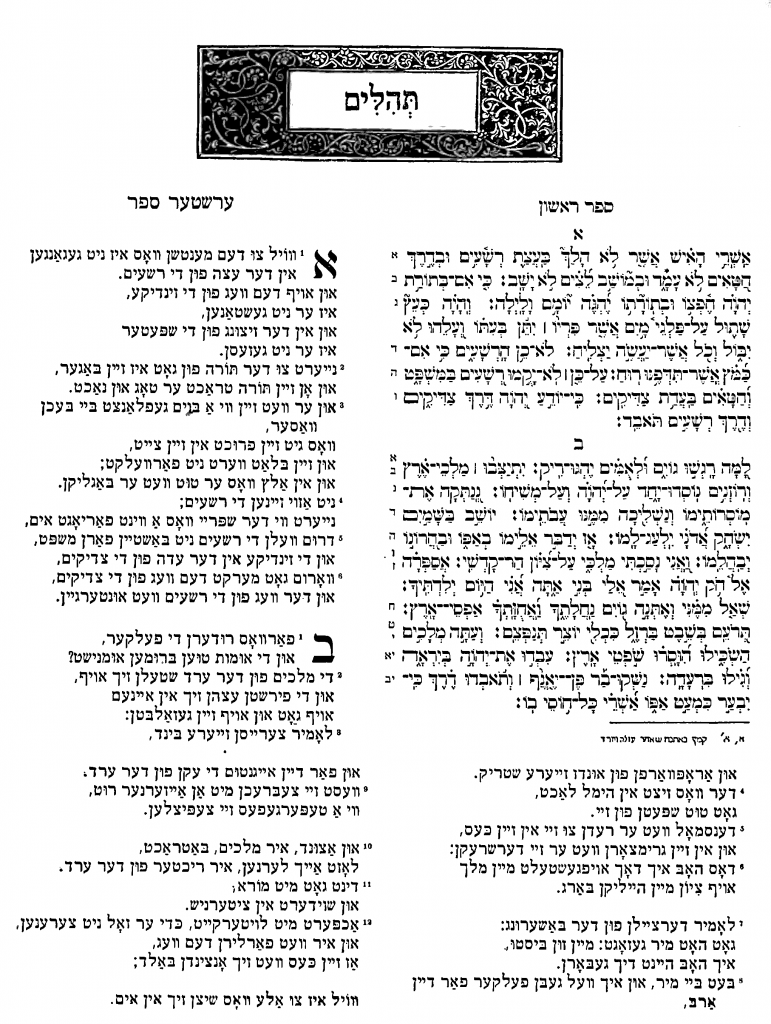 "תהלים ב׳ בלשון ײִדיש | Psalms 2 in Yiddish (translated by Yehoyesh Shloyme Blumgarten ca. 1920s)"
is shared through the Open Siddur Project with a
Creative Commons Public Domain Dedication 1.0 Universal
license.
---