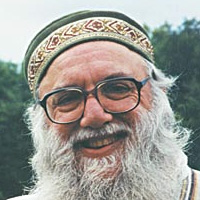 Arthur Waskow
Rabbi Arthur Waskow is the director of
The Shalom Center
. In 2013, Rabbi Waskow received T'ruah's first Lifetime Achievement Award as a "Human Rights Hero." His chapter, "Jewish Environmental Ethics: Adam and Adamah," appears in Oxford Handbook of Jewish Ethics and Morality (Dorff & Crane, eds.; Oxford Univ. Press, 2013). Rabbi Waskow is the author of 22 books including
Godwrestling
,
Seasons of Our Joy
(JPS, 2012), and
Down-to-Earth Judaism: Food, Money, Sex, and the Rest of Life
. With Sister Joan Chittister and Murshid Saadi Shakur Chisht he co-authored
The Tent of Abraham: Stories of Hope and Peace for Jews, Christians, and Muslims
, and with with Rabbi Phyllis Berman wrote
Freedom Journeys: Exodus & Wilderness Across Millennia
(Jewish Lts, 2011). He edited
Torah of the Earth
(two volumes, eco-Jewish thought from earliest Torah to our own generation). These pioneering books on eco-Judaism are available at discount from "
Shouk Shalom
," The Shalom center's online bookstore.
https://en.wikipedia.org/wiki/Arthur_Waskow