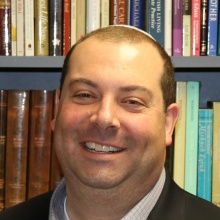 Aaron Melman
Aaron Melman is head rabbi at Congregation Beth Shalom in Northbrook, IL. Originally from Toronto, he graduated York University with BA in Judaic Studies. He attended the Jewish Theological Seminary where he received his ordination in May 2002.While at JTS, Rabbi Melman taught Hebrew School at Or Zarua, a Conservative synagogue on Manhattan's Upper East Side, and served as a student chaplain with the New York City Fire Department (FDNY). Rabbi Melman is involved in the community through the Northbrook Clergy Association, serves on the Board of Directors of The Norton and Elaine Sarnoff for Jewish Genetics, and is the immediate Past-President of the Chicago Region of Rabbinical Assembly. Rabbi Melman also serves as the only Chaplain to the Northbrook Fire Department.
https://bethshalomnb.org/clergy
Contributed on: י״ט בטבת ה׳תשע״ט (2018-12-27) by United States Congressional Record | Aaron Melman | ❧
The Opening Prayer given in the U.S. House of Representatives on 31 May 2012. . . .
---