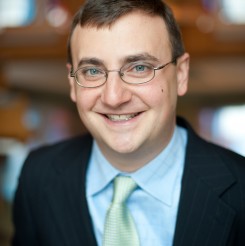 Eytan Hammerman
Eytan Hammerman is rabbi at the Jewish Community Center of Harrison, N.Y.. He had previously served Temple Beth Shalom, Mahopac N.Y. A graduate of the Jewish Theological Seminary (JTS). He also holds a Masters Degree from JTS in Jewish Studies with a concentration in Jewish History. A native of Toms River, NJ and a graduate of the Solomon Schechter Day School, Rabbi Hammerman was an active USY and Ramah participant and Youth Leader. He is a graduate of Columbia University ('99) with a degree in Political Science and holds a B.A with "Honors and Distinction" from List College of the Jewish Theological Seminary. He has been a visiting student at Union Theological Seminary, New York, and the Hebrew University and the Schechter Institute of Jewish Studies in Jerusalem, Israel.
https://jcch.org/clergy/
Contributed on: כ״ה באלול ה׳תשע״ח (2018-09-04) by United States Congressional Record | Eytan Hammerman | ❧
The Opening Prayer given in the U.S. House of Representatives on 11 June 2014. . . .
---