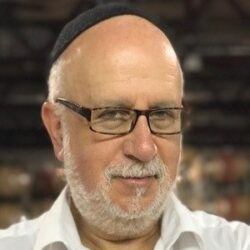 Martin Samuel Cohen
Martin Samuel Cohen was born and raised in New York City, where he received his B.A. summa cum laude from the City University of New York and where he was ordained as rabbi at the Jewish Theological Seminary in 1978. In addition to his ordination, Rabbi Cohen earned a Ph.D. in the history of ancient Judaism from JTS, which degree was awarded to him in 1982. The recipient of post-doctoral fellowships at the Hebrew University in 1983 and at Harvard University in 1993, Rabbi Cohen has also lectured on the history of religion at Hunter College of the City University of New York and taught Bible and Talmud both at the Jewish Theological Seminary of America in New York and at the Institute for Jewish Studies attached to the University of Heidelberg in Germany. In 1986, Rabbi Cohen left Europe for Canada, where he accepted the pulpit of the Beth Tikvah Congregation in Richmond, British Columbia. In 1999, he left Canada to assume the pulpit of Congregation Eilat in Mission Viejo, California, the position he left in 2002 to become the rabbi of the Shelter Rock Jewish Center in Roslyn, New York, where he has now completed thirteen years of service. In addition to his work as teacher and rabbi, Rabbi Cohen is an author and has published two scientific studies in the history of pre-kabbalistic Jewish mysticism, four novels and four books of essays, including the Hebrew-language
Sefer Ha'ikarim Livnei Zemanenu
, as well as his own 2004 edition of the Book of Psalms, called Our Haven and our Strength: The Book of Psalms in New Translation. More recently, Rabbi Cohen has published the two-volume prayer book
Siddur Tzur Yisrael, Zot Nechemati
for the house of mourning, a children's book called
Riding the River of Peace
, and
The Boy on the Door on the Ox
, an exploration of the relationship between Torah study and service in the congregational rabbinate. From 1997 to 2000, he served as chairman of the Publications Committee of the Rabbinical Assembly and has for the last dozen years chaired the editorial board of the quarterly journal, Conservative Judaism. Most recently, Rabbi Cohen served as senior editor of the 2012 landmark volume defining Conservative Jewish life,
The Observant Life: The Wisdom of Conservative Judaism for Contemporary Jews
, and is currently at work on his own Torah translation and commentary.
https://www.srjc.org/rabbi-martin-s-cohen