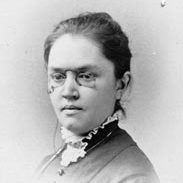 Katharine Lee Bates
Katharine Lee Bates (August 12, 1859 – March 28, 1929) was a prolific American writer, college professor, scholar, and social activist. Although she published volumes of poetry, travel books, essays, children's books, books for young adults, and editions of many earlier writers' works, today Bates is primarily remembered as the author of "America the Beautiful". While on the Wellesley College faculty, Bates mentored many young poets (including some, like Robert Frost, not enrolled at Wellesley) and helped establish American literature as a field for college study by creating an early course on the genre and writing a textbook for the field (the first woman to do the latter).
https://en.wikipedia.org/wiki/Katharine_Lee_Bates
Contributed on: כ״ח בכסלו ה׳תש״פ (2019-12-26) by Aharon N. Varady (transcription) | Berl Lapin (translation) | Katharine Lee Bates | ❧
"America the Beautiful," the patriotic hymn (1911 version) by Katharine Lee Bates (1859-1929) in its Yiddish translation by Berl Lapin (1889-1952). . . .
---