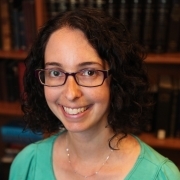 Lisa Exler
Lisa Exler is Director of the Curriculum Project, a joint initiative of Mechon Hadar and Beit Rabban Day School where she is the Director of Jewish Studies. In this dual role, Lisa directs the effort to sharpen goals and set national standards for Jewish education in classical texts while also advancing Beit Rabban's strong Jewish Studies program. Previously Lisa worked as an experiential educator at American Jewish World Service (AJWS) and as a classroom teacher at the Solomon Schechter School of Manhattan. Lisa has a B.A. and an M.A. in Near Eastern and Judaic Studies from Brandeis University. She is a graduate of Midreshet Lindenbaum and an alumna of the Dorot Fellowship in Israel. Lisa lives in Washington Heights, NY, with her husband, Elie, and children, Maytal, Amalya and Yaniv.
https://www.hadar.org/faculty-staff/lisa-exler
Contributed on: כ״א בסיון ה׳תש״ע (2010-06-02) by Elie Kaunfer | Lisa Exler | ❧
In place of the blood of the slaughtered bulls from the covenantal ceremony in Exodus, we looked for another substance to effect the covenant ceremony. Amalya was born right after Shavuot, on which we have a tradition to eat dairy. In fact, milk itself is associated with the acceptance of Torah, as described in the following Midrash which quotes a verse from Song of Songs (4:11): "Sweetness drops from your lips, O bride; honey and milk are under your tongue and the scent of your robes is like the scent of Lebanon." . . .
---
Contributed on: י״ח באלול ה׳תשע״ו (2016-09-21) by Rabbi Julia Andelman | Lisa Exler | Unknown Author(s) | ❧
An egalitarian adaptation of the seliḥa for Yom Kippur. . . .
---