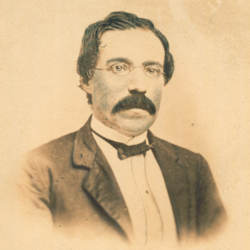 Moritz Mayer
Rabbi Moritz Mayer (originally Moses Maier, later Maurice Mayer; 1821-1867) born in Dürckheim-on-the-Haardt, Germany, fled to the United States and to New York as a political refugee of the
1848 revolution
. In 1859, after seven years as the rabbi of
Ḳ.Ḳ. Beth Elohim
in Charleston, South Carolina, he returned in poor health to New York where he contributed frequently to the Jewish press, and translated various German works into English: Rabbi Samuel Adler's catechism, Abraham Geiger's lectures on Jewish history, and Ludwig Philipson's pamphlet,
Haben die Juden Jesum Gekreuzigt?
(the Crucifixion from the Jewish Point of View), et al. In 1866, a number of his English translations of Fanny Neuda's teḥinot in German (from her
Stunden Der Andacht
, 1855/1858) were published in a volume he titled
Hours of Devotion
. The work also included a number of his own prayers as well as those of Marcus Heinrich Bresslau. The following year, Moritz Mayer passed away. He was 45 years old. (We are indebted to Anton Hieke for his research on Mayer, "
Rabbi Maurice Mayer: German Revolutionary, Charleston Reformer, and Anti-Abolitionist
" published in
Southern Jewish Life
, 17 (2014), pp. 45-89.) For Mayer's translations of prayers by other authors, please
visit here
.