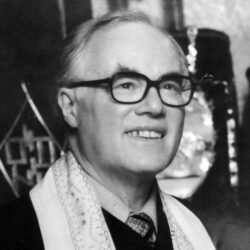 Morrison David Bial
Born in New York in 1917, Morrison David Bial studied at Princeton Theological Seminary, served as a chaplain at Mitchell Field during World War II, and was ordained from the Jewish Institute of Religion in 1945. Rabbi Bial spoke from pulpits in the United States as well as in Dublin, Glasgow, and London. He led a number of tours to Israel, and published thirteen books, including
The Rabbi's Bible: Torah
and
The Rabbi's Bible: Prophets
(began in 1966, co-authored with Solomon Simon),
Liberal Judaism at Home: the Practices of Modern Reform Judaism
(1971), and
Your Jewish Child
(1978). Rabbi Bial spent over thirty years serving Temple Sinai in Summit, New Jersey, from 1953 until he became Rabbi Emeritus in 1985. From 1985–1995, Rabbi Bial joined Temple Beth Shalom in Ocala, Florida, revitalizing its interfaith movement, and served as Rabbi Emeritus until his death in 2004.